Coconut products have become popular and in their many forms are now included in various ways within many types of diets. Coconut naturally has a lot of flavor, can be prepared in many different ways, and provides a diverse nutritional profile.
1 cup of shredded coconut contains these nutritional components
Protein 2.66g
Carbohydrate 12.2 g
Total Fats 26.8 g
Fiber 7.2 g
Sugars 4.98 g
Calcium 11.2 mg
Iron 11.2 mg
Magnesium 25.6 mg
Phosphorus 90.4 mg
Potassium 285 mg
Sodium 16 mg
Zinc 0.88 mg
Copper 0.348 mg
Vitamin C 2.64 mg
Thiamin 0.053 mg
Riboflavin 0.016 mg
Niacin 0.432 mg
Pantothenic acid 0.24mg
Vitamin B6 0.043mg
Choline 9.68mg
Vitamin E 0.192 mg
Saturated Fatty Acids 23.8 g
Monounsaturated Fatty Acids 1.14 g
Polyunsaturated Fatty Acids 0.293 g
In addition to these vitamnins and minerals found within coconut, it's important to include how these vitamins and minerals work to provide wellness to health. Most people use the governmental labeling guidelines and food pyramid to understand what they're eating. These guidelines and labels are great for providing a good roadmap for about how much of basic nutrients should be eaten per day, however, the information doesn't go past that. These guidelines leave it to the consumer to do their own research and to educate themselves on what specific things such as proteins are and how they can help the body. The dynamics of every nutrient are good to know about since they all do different things on an individual basis.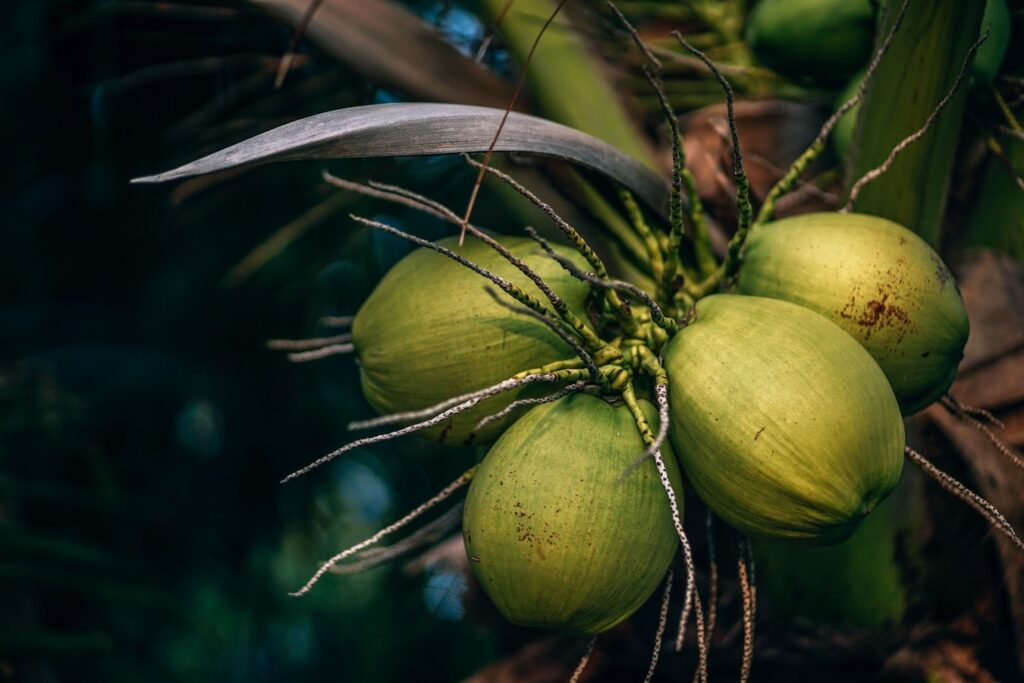 For coconut, instead of going into the science behind why specific fatty acids are important, it is good to understand the basics of what proteins, carbohydrates, fats, sugars and fibers do for the body. Articles and health advice usually focus on what is beyond and not included on labels and guidelines, though it is invaluable to understand how what is listed on the label works and does for the body.
Coconut is well known for having a lot of fiber, and this fiber has assisitive health properties. When coconut is taken from a tree and cracked, you can see the white fiberous material inside. This white fiberous material is the part of the coconut that is consumed. The fiber from coconut passes through and into the digestive system. Once inside of the digestive system the fiber can help with immune system processes.
Coconut has also shown possible antimicrobial properties such as fighting against bacteria, viruses and other germs. The fatty acids and other germ fighting properties are part of the nutrients within coconut.
Among other possible health aids, coconut also demonstrates potentially helping to stabilize blood sugar and boost cognitive function. The combination of fats, proteins and other powerful agents makes coconut products attractive for everyday shoppers and health food enthusiasts alike.